DETAIL PICTURES
"808 DETAILS"
Professional Mobile Auto Detailing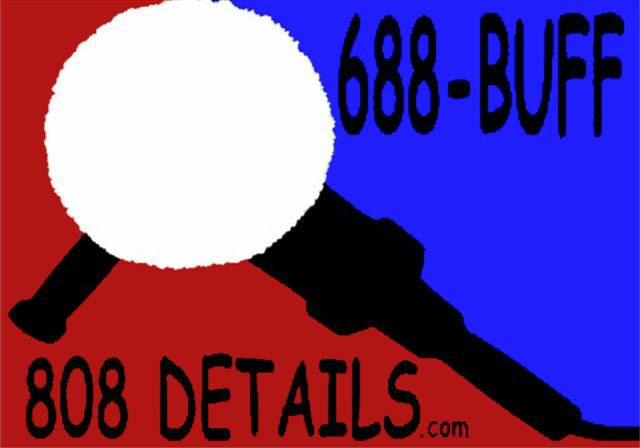 Keeping Hawaii beautiful 1 car at a time
We come to you or free pick up and delivery
688-BUFF/2833
or email me with any questions
details808@hawaii.rr.com
that will save you time and money:
If you are looking for an "express exterior shine", inside vacuum and some wet glossy tires all at a great price (-: !!!
please move on to a car wash shop, I'm a Professional Detailer!
IF YOU'RE LOOKING FOR "PROFESSIONAL QUALITY DETAILING"
with extreme "Attention to Detail" =

1. That takes time,

about 3 hours

for an interior or exterior Detail and

about 6 hours

for a full complete Detail. 2. Superior Established Detailing Products and Equipment that Perform to bring that "NEW CAR" look back to your vehicle with lasting protection. 3. Performed by a licensed, insured & certified Professional Auto Detailer with 19 years experience on Oahu.

Please read on or call me for Professional Auto Detailing at its best!
Professional Detail packages listed below (call for pricing)
I WILL MATCH ANY OTHER OAHU MOBILE AUTO DETAILERS PRICE
that can provide the equivalent professional quality work that I perform.
Aloha, I'm Dave Knox,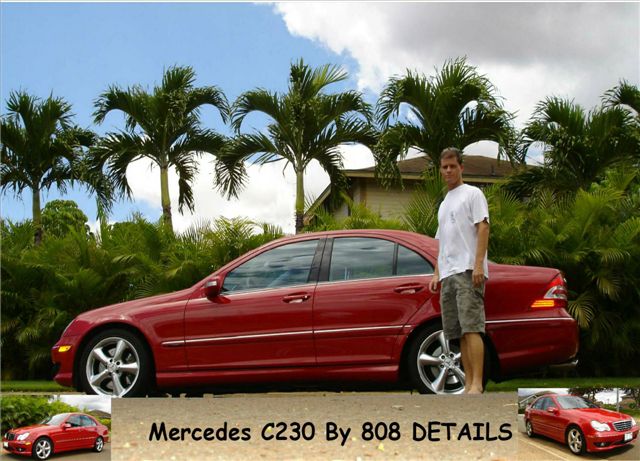 I am the Owner and Operator of this company and the only one

that will ever touch your vehicle. 100% satisfaction guaranteed.

I am retired US Navy and have been Detailing on Oahu since 1990.

I am licensed, insured and certified through the Rightlook Auto Detailing & Reconditioning training center out of San Diego, Ca. the best in the country.

Given the opportunity,
I will bring that "NEW CAR" look with hi-end protection back to your vehicle. I take a lot of pride in the work I do and will not sell you a service that you do not need. My customers are my reputation, that simple!

Experience and Pro-Training have taught me three main objectives;

1. Inspect and evaluate to make recommendations that are best suited for the condition of my client's vehicle/s.

2. Safe and effective washing, cleaning, conditioning, polishing and restoration technique.

3. The most important, lasting protection with the best professional products in the Auto, Motorcycle, Boat and Aircraft Detailing Industry.

The result
A standout appearance with a shine that shows depth and looks wet especially in darker colors and protection that lasts 5 months to a year when properly maintained. This is all accomplished by professional detailing procedures through training, knowledge, 19 years experience and hi-end detailing tools and products that work!

* If you are still looking for that wax or sealant that lasts 2 to 5 years, you will find it on the same shelf with "color matched wax " that hide scratches and "Teflon-Enforced-Wax"!!! Do a little research, it's absolutely false along with other advertising statements that sound to good to be true.

* When you hear the word "waterless", RUN! ..With the exception, if you have a "cash for clunkers" car and use "sham-wow" towels for drying. Just my opinion.

Detail Packages
I won't confuse you with 6 to 8 different packages, "express wash and shine's", Bronze, Silver, Gold, Platinum, Titanium, Iridium, Plutonium, and Diamond Detail packages and other added costs like "sealant upgrade", carpet and mats shampooed but "seats or leather are extra". What you see in my written packages is what you get, it's all included. And your vehicle will get 100% of my attention.
I never schedule more than one vehicle per day so I don't need to rush to get to the next one!

I HAVE THREE DETAIL PACKAGES:

# 1. Complete Exterior Detail. That includes wipe down and vacuuming of all interior and trunk: Approximatly 3 hours for compacts.

# 2. Complete Interior Detail: Approximately 3 hours for compacts.

# 3. Complete Exterior & Interior Detail. Approximately 6 hours Combining the two saves you money (amount depending on vehicle size):


The size of your vehicle will determine the price Some cases of extra dirty interior or paint damage will cost more. I also have specialty and customizing services listed at the bottom.

#1 PRO SERVICE "EXTERIOR DETAIL" (call for pricing). 3 hours

Prep-Wash; A Pro Service Wash & Wax includes proper hand washing technique starting with the wheels, tires and wheel wells. Once the wheels have been thoroughly cleaned the vehicle is then washed with Meguiar's Gold Class Car Wash Shampoo & Conditioner using a microfiber wash mitt. You're vehicle will be properly washed using the "double bucket wash - rinse procedure" from the top down with water changed out half way through to eliminate any micro scratching. The vehicle is then towel dried with micro fiber waffle towels fallowed by compressed air to blow out all water from mirrors, handles, moldings, emblems, grill, bumpers, rim lugs etc.

Vacuuming; Once the vehicle is completely dry, I move on to the interior vacuuming of the floor, seats, mats and trunk fallowed by a wipe down of the dash, instrument panel, center console and rear shelf if applicable.

Shine & Protect; With the interior complete I move on to exterior paint, body, trim, emblems etc. To bring out the shine and protection in you're paint I use some of the purest carnaubas and best synthetic polymer sealants in the detailing industry depending on the paint condition and or owners preference. Once again, I do not charge extra for hi-end synthetic polymer sealants.

Superior wax and sealants are like a jacket of transparent armor with sunscreen! This jacket resists abrasion, acid rain, water spots, UV damage, oxidation, salt air, industrial pollution (Airport, Sand Island, Campbell industrial park, Shipyard etc.) and weathering without fear of yellowing, hazing or discoloration. Without this jacket you are unprotected and will eventually come into "paint failure" or clouding of the clear-coat or single stage paint if an older vehicle. Without protection your plastics and vinyl trim areas will also start to fail with blacks turning dull or graying and grays starting to "fog" / off-white. Look around next time on the road, you will see what I'm talking about and this is totally avoidable.

All wax, glaze and sealants are always applied "by hand" with a new micro fiber applicator pad. It's my belief and experience that machines are for paint correction which I use, but wax and sealants are more evenly and thoroughly applied by hand. The wax or sealant is then buffed off by hand with small microfiber towels with special attention to small crevices, emblems, grills, seams etc. Towards the end of you're pro service wash and wax, the exterior trim and tires are dressed to a mat (natural looking) finish with anti-fling dressing. Windows and mirrors are then cleaned with tint safe glass cleaner and chrome bumpers and rims are hand buffed to a radiant shine.

Also included in every exterior or full detail: Moderate bug and tar removal. Door seals and trunk jambs cleaned. Check & fill tire pressure including spare. Check all engine fluid levels and battery terminals cleaned of any corrosion. Dress and UV protection as applicable for all outer vinyl, plastics, handles and door seals. Removal of minor paint surface water spots and oxidation. Minor odor removal, heavy odor may require shampooing / hot water extraction. Headlights lightly polished for UV protection. Choice of air freshener if desired.

To finish up I do a final inspection to insure I have gone through 100% of my exterior check list.
I also leave you with a micro fiber towel for in rare cases you find a smudge.
As with all packages, I go over everything that was completed and bring up any problem areas that are not always recognizable at pre-inspection.

Scratch removal or paint correction if necessary will be machine polished and may be an extra charge depending on the severity of the paint damage. Some cases of neglected, abused, or UV damaged paint may require single, duel or three stage paint correction. These procedures can only be determined after a professional evaluation of the paints condition.

Sound like a lot ? it is! I don't skip corners or do mini/express details; you absolutely get what you pay for with my company "808 DETAILS".

When choosing a Professional Detailer
Please understand that there is a big difference between a quick "wash and shine/mini/express detail" with "express products" and a full/complete professional Detail with top name products that are proven among the best in our industry. Product protection and effectiveness are not created equally! In most cases, a good analogy of what you are going to get in your Detail is reflected in the price you are paying and how long it will take.
If it sounds like a "great deal" it's most likely going to be short of a complete Professional Detail. Will they still make your car shine, vacuum and provide a little protection? Absolutely! And this may be a better choice for you and or you're budget.

#2 PRO SERVICE INTERIOR DETAIL (call for pricing). 3 hours

A Pro Service Interior Detail starts with removal of all unattached items from all pockets, center console, glove box, other small storage spaces and trunk (unless requested not to). These items are bagged up separately according to the space taken from which gives me access to clean "everything" and the customer the opportunity to evaluate non essential items they really don't need in their vehicle.

Thorough Vacuuming of interior seats, floor, floor mats and trunk. Even with a crevice tool, a vacuum hose will never get all of the dirt lodged under the seats unless you were to actually remove the seats first and that's not practical. I use hi pressure air in conjunction with the vacuum to get to all of the very tight places a hose won't reach.

Stains; I pre-treat and agitate any tough stains that need time (15+ minutes) for the stain remover to penetrate and brake up before I use the extractor.


Vinyl, plastic and rubber cleaning; Moving on to all door panels, dash, center console, knobs, levers, switches, air vents, pockets, handles, coin trays, sun visors, glove box, gearshift, steering wheel, Instrument panel, cup holders, door jams, door seals, pedals and rear shelf are carefully and thoroughly cleaned, conditioned and UV protectant applied.

Leather interior; the seats, door panels and all leather trim will be cleaned, conditioned and UV protected with Lexol professional leather care products.

Cloth interior, Seats, carpet floors, floor mats and door panels will be shampooed/agitated and extracted with a "Mytee" extractor, absolutely the best and most powerful extractor in interior Auto Detailing. This is the same kind of professional shampoo/extractor that is used in your home with professional carpet cleaners.

The shampoo cleaning process; A combination of very hot water, hi lift/suction and cleaning solution is simultaneously sprayed into the interior fabric and extracted/lifted with each pass of the vacuum/solution wand.
This solution penetrates deep into the carpet fibers safely pulling out dirt, stains and odor that simple wont work with the can spray solution and towels. This fast penetrating formula is one of the best I've used and is people and pet safe. This solution provides "stain block tm" which helps repel dirt and stains for ease of future cleaning. It is safe for all wool, nylon, stain resistant and other synthetic auto carpets.
Some stains like tracked in red dirt, motor oil, red sodas, punch, food grease and more can sometimes actually penetrate and dye the color of the fabric and are impossible to get out 100% but stain removal extraction will still have a significant improvement.

Also included in every interior detail:

Door seals and jambs cleaned. Check & fill tire pressure including spare. Check all engine fluid levels and battery terminals cleaned of any corrosion.
Fabric protectant for carpet, seats and floor mats.
Air blower to accelerate drying after shampooing/extraction.

To finish up

I clean the windows with tint safe glass cleaner and do a final inspection to insure I have gone through 100% of my interior check list. I leave an air freshener of your choice and a small micro fiber towel for in rare cases you find a smudge.




As with all packages, I go over everything that was completed and bring up any problem areas that are not always recognizable at pre-inspection.

#3 PRO SERVICE INTERIOR & EXTERIOR DETAIL (call for pricing) 6 hours

A complete professional interior and exterior Detail includes all previous services.


NOTE: A COMPLETE PRO SERVICE DETAIL CAN BE ADJUSTED IN PRICE IF THE CUSTOMER WANTS THE INTERIOR CLEANED, CONDITIONED AND UV PROTECTED BUT DOES NOT REQUIRE SHAMPOOING OR LEATHER TREATMENT.

SPECIALTY SERVICES CLAY- surface contaminant removal. price depending on size. Water Spot removal on glass, paint, chrome, vinyl, rims Price depends on severity. Swirl marks, micro scratch (spider web) & minor scratch removal Price depends on severity.
Engine compartment degrease & Detail Convertible top cleaning and protection with 303 or Raggtopp Wheel polishing, seal and wax (aluminum, chrome, painted) Price depends on severity. Scuffs, scrapes, road paint, overspray and tar removal Price depends on severity. Scratch removal Paint chip touch up, must provide or set up for color match. Headlight restoration PER LIGHT price depends on severity. Permanent fix with wet sanding and 2 stage polishing, not the cheap kit that lasts for a month or two.

ADDITIONAL SERVICES Motorcycle, Boat & small Aircraft Detailing.

*Oil & filter change * Engine and cosmetic customizing. * Wheel well restoration, paint or rubberize.

*30 / 60 / 90,000 miles or 24 / 48 / 72 months recommended engine maintenance: ask me! Every vehicle varies but basics are the same. Priced about half of what the dealerships will charge.

is all your scheduled maintenance up to date? Check your owners manual with your miliage.

Some additional and Specialty services are only offered with Detail packages.
All these services must be visually evaluated for size and condition of vehicle before an estimate can be made.
Call me, I would be happy to go over it with you.

Products & Tools:
I use a variety of proven hi-end products and tools that I apply with/to my own vehicles. I use them because they are leaders in performance and protection in the Detailing industry including: Meguiar's, Mothers, Pinnacle, Wolfgang, Klasse, Menzerna, 303 Aerospace, Rightlook, Stoner, Clay Magic, Raggtopp, Lexol, Scotch Guard, Resolve, Simple Green, ACS, Craftsman, Snap-on, DeWalt, Flex, FenderSplender PTG, Mytee, and close to 500 horsepower of "Chevrolet Heartbeat" to get me to your location. I am not indorsed nor do I sell any of these products, I use them because they work! Furthermore, associate my reputation of using the best in our industry in a professional manner with professional results.

I don't really understand that!
Ask me about anything you don't understand or how a product or procedure will benefit your vehicle. I absolutely love to 'talk Detail" and feel it is part of my job to educate and inform my clients about what we do in the Detailing industry and how far and advanced it has become to prolong the life and appearance of your vehicles paint, plastic, rubber, vinyl, leather and more.
My paint and interior are original, 15 years old and they still look close to the day I picked it up new. It's not magic, its knowledge!
Ask me how you can keep your vehicle looking new when it's 10, 20 or 30 years old.

More about Me / "808 DETAILS"
My reputation and pride rely on my knowledge and performance of 19 years as an Auto Detailer. I didn't just grab a bucket, sponge, water hose and license and start detailing / - :
I am a Trained Certified Professional Auto Detailer and Recondition Specialist through the "Rightlook" training center out of San Diego, Ca. the best in the country. I'm also supported and constantly updated by my local Detailing supply distributors about new products, equipment and procedures, a wealth of knowledge that makes me more effective and efficient each year.
I am also a certified mechanic (1982) and have been fixing and modifying my own motorcycles, cars, trucks and boats (inboard V8 flat-bottoms) since the early 80's.

Does your Detailer really know cars? Does it matter? I think it does! I can recognize worn brakes, faulty charging or Air conditioning systems all the way up to suspension mods or changing your motor and transmission….., I KNOW CARS! This is not just my job, it's my passion!


I will not show up to your work or residence to detail your vehicle with a beat up work van, my Detail work truck is also my show truck that I have entered and won 3 different car shows with. I have removed, rebuilt and planted two different race motors in my show / work truck and now pushes almost 500 horsepower with intimidating gear drive, electronic cut-outs/dumps and 18 inch wide MT radial tires in the rear.

My intentions have always been to stand out with the best in Auto Detailing whether it be a fixed shop or mobile unit. With that said, quick details, cheap products and cutting corners would ruin my reputation among the select few that go to the extent I do. This is the kind of drive that has carried over with me in my core values from 20 years in Military Law Enforcement.

* I believe I represent some of the best of what a Professional Detailing and Reconditioning Expert should be but acknowledge that I am not the best (yet) and will never stop learning.

* I require no meds but do confess I have been diagnosed with Obsessive Compulsive Detailing Disorder "OCDD"

Vehicle category/size reflecting price: Categories are based on manufactures stated length, passenger and baggage capacity combined.

Vehicle Condition: UV damage/"clouding", paint or fabric fading, deep stains, heavy water spots, heavy etching, small scratches you can feel; This type of paint, glass, plastic, carpet, vinyl and leather damage must be evaluated before any work can be performed. Once evaluated, I will make recommendations that are best suited for the vehicles condition.

Military, I am retired US Navy (20 years) and have access to and thoroughly know my way around all bases. I work with many Military families; Solders, Marines, Sailors and Airman from Schofield Barracks, Wheeler, Kunia (AKA "the tunnel", my last Command as Security Force Watch Commander), Iroquois Pt, Pearl and more and feel it's an Honor to talk to and work with retired, active duty personnel and thier families. On or off base, if you are Military don't be surprised if I throw in an extra service for no charge. Thank you for your support and the freedom you provide for this great country.

Discount Incentives: Refer a friend or relative for 10% discount on your next Complete Detail. 5% off of all Gift Certificates. Senior Citizen and Military, lower your vehicle one catigory for full details.

My Detailing service area is primarily southwest Oahu from Tripler & Aiea to Ko Olina including Ewa Beach, Schofield Barracks, Waipio, Mililani and Wahiawa. I will however travel further for complete or multiple details at same location.

Mahalo for viewing my company/website Aloha, Dave Knox

website is still under construction and will soon have many more before and after pictures